'We have realized our natural resources are limited and contamination of our world is not easily cleaned up. Students who appreciate their world and the impact they can have, positive and negative, are powerful in building their sense of citizenship and community. We are encouraging other schools to incorporate…ecoliteracy projects into their science courses.'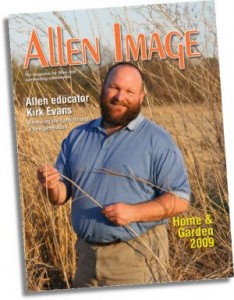 Schornick continues…'It is not only about the fact the students have a better understanding and appreciation for their environment, they also have a working knowledge of how to make scientific observations of the environ-ment around them and record these observations in a manner that they can use the information in the classroom. Their sketches are very good and their observations are quite in-depth.'
Excerpt from: Cover Story, Allen Image, 2009, Allen educator, Kirk Evans…Renewing the Earth through a new generation, by Peggy Helmick-Richardson  .
Click here to read the full article and learn more about Eco Teaching Resource's founder and Nature's Window creator, Kirk Evans.
Take Note: Take It Outside, read article on pg. 11, by Jill Coody Smitts, Dallas Child, April 2010.
Read a collection of over 20 EcoLiteracy articles by Kirk Evans from community newspaper, Neighbors Go Allen.
Whose Choice Is It? Contemplating Challenge-by-Choice and Diverse-Abilities, an article by Julie A. Carlson and Kirk Evans from The Journal of Experiential Education, 2001.
TESTIMONIALS