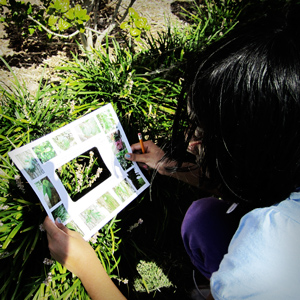 Our revolutionary template tool, Nature's Window, can be used to create imaginative, interactive field guides for any discipline. They have been used extensively by teachers in the classroom as a 21st century alternative to the flashcard. Nature's Window templates are ideal for self paced exploration through community and botanical gardens, historical buildings and sites, art and natural history museums, state and national parks, urban walking tours, and in conjunction with eco and agritourism. Create custom scavenger hunts for events or organizations . Once you've experienced the ease and power of creating your own field guides, you will be hooked on using them over and over again.
Through our site you can SUBSCRIBE to our program to CREATE and print your own Nature's Window templates. You can SHOP for additional template paper and request BULK ORDERS for your organization.


To get started to build and print our Nature's Window templates, you need to subscribe to one of our programs. We have several options to fit your needs.
Each tier offers you a different ability to make and use our product in your classroom or for your organization, and each level comes with different amounts of our printable template paper.
If you have a window that you want to create and are prepared to create it within a 24 hour time frame, you should subscribe at the one day level. It's the perfect way to try out our templates.
If you are working on a project and you need more time, consider the 1 month option. Perfect to give you the time to gather your pictures or information, or for creating a couple of different designs.
If you want to create multiple windows over a three month period of time, the next tier would be best for you. Great for creating seasonal collections.
If you're going to create several windows for your center, program or classroom the course of the year, out top tier is the one you would want. Perfect for biodiversity studies.


Once you've subscribed and logged in to your account, you will be able to create your template.
To create your template, you will need to gather 14 photos and their corresponding descriptions, common names, scientific names, states and cities (and your logo, if applicable).
After you create the front and back of your template, you will be provided with a printable PDF. For best results, print on our die cut paper so you can have the perfect "window".
We encourage you to create your own hyper local field guides to truly engage your students or visitors with a locally based learning experience to create a deeper connection to place and community.


Our die cut, printer-friendly papers are designed to use with our Nature's Window templates. Print your own custom templates for your classroom, club or event from your own home!
You will receive a set of "starter" pages when you subscribe, but you can also buy more! If you have a subscription, it is always a good idea to be prepared and keep a supply of template paper in reserve, so you can build and print templates on the fly.
Once you have created your template, print the pdf on our template paper. Leave the center piece intact for printing. The best way to remove the center piece is by punching through two of the rounded corners on the same side of the paper first, then slowly pull towards the other corners. Paper measures 8.5 x 11″ with a 3 x 5″ die cut center with rounded corners. 67# vellum card stock. 
More products coming soon!


If you need to order templates in bulk (100, 250, 500, 1,000  or more), you can request professionally printed pieces through our website.
With bulk orders we can offer custom formatting, personal service and the ultimate professional results. With bulk orders you can add extra information or branding to the center, punch out card. Use this added space for bonus materials, maps, organizational information, marketing or links to your online presence.
We work with a local printer that has been in business for 40 years. They have printed over 10,000 of our templates with a 100% satisfaction rating.